EcoFlow RIVER 2 Portable Power Station
VERSATILE‌ ‌& ‌LIGHT‌‌ ‌It's‌ ‌‌portable‌ ‌electricity‌‌ ‌for‌ ‌your‌ ‌essential‌ ‌devices;‌ ‌nine‌ ‌at‌ ‌a‌ ‌time‌ ‌if‌ ‌you‌ ‌want.‌ ‌Draw‌ ‌720Wh‌ ‌through‌ ‌RIVER‌ ‌Pro's‌ ‌wall‌ ‌outlets,‌ ‌USB‌ ‌outlets,‌ ‌and‌ ‌DC‌ ‌outlets,‌ ‌and‌ ‌at‌ ‌just‌ ‌7.6‌ ‌kg,‌ ‌it's‌ ‌one‌ ‌of‌ ‌the‌ ‌‌best‌ ‌portable‌ ‌power‌ ‌supply‌ ‌alternatives‌ ‌for‌ ‌camping,‌ ‌off-grid‌‌ ‌living,‌ ‌and‌ ‌professional‌ ‌work.‌ ‌
WORLD'S‌ ‌FASTEST‌ ‌RECHARGE‌ ‌‌Our‌ ‌patented‌ ‌X-Stream‌ ‌feature‌ ‌takes‌ ‌RIVER‌ ‌Pro's‌ ‌battery‌ ‌from‌ ‌0–80%‌ ‌within‌ ‌one‌ ‌hour‌ ‌and‌ ‌fully‌ ‌charged‌ ‌in‌ ‌just‌ ‌1.6‌ ‌hours.‌ ‌
OPT‌ ‌FOR‌ ‌DOUBLE‌ ‌CAPACITY‌ ‌‌Add‌ ‌a‌ ‌RIVER‌ ‌Pro‌ ‌Extra‌ ‌Battery‌ ‌to‌ ‌double‌ ‌the‌ ‌capacity‌ ‌to‌ ‌1440Wh.‌ ‌This‌ ‌makes‌ ‌it‌ ‌a‌ ‌great‌ ‌‌backup‌ ‌power‌ ‌supply‌‌ ‌for‌ ‌refrigerators‌ ‌‌or‌ ‌as‌ ‌part‌ ‌of‌ ‌an‌ ‌‌off-grid‌ ‌power‌ ‌system‌.‌ ‌
HIGHER‌ ‌OUTPUT‌ ‌‌With‌ ‌X-Boost‌ ‌enabled,‌ ‌RIVER‌ ‌Pro's‌ ‌600W‌ ‌output‌ ‌can‌ ‌power some devices up to ‌1800W.‌ ‌That's‌ enough‌ ‌for‌ ‌80%‌ ‌of‌ ‌devices,‌ ‌tools,‌ ‌and‌ ‌appliances,‌ ‌though‌ ‌it‌ ‌works‌ ‌mostly‌ ‌as‌ ‌a‌ ‌safety‌ ‌net.‌
Step into the wild with a massive 720Wh of battery capacity. RIVER Pro is the powerhouse for your off-grid adventure. Keep multiple devices powered on at once and recharge in record times via car, solar, or standard AC outlets.
The world's fastest charging power stations
EcoFlow has the world's fastest charging power stations. RIVER Pro charges from 0-80% in under an hour, or to full in 96 minutes.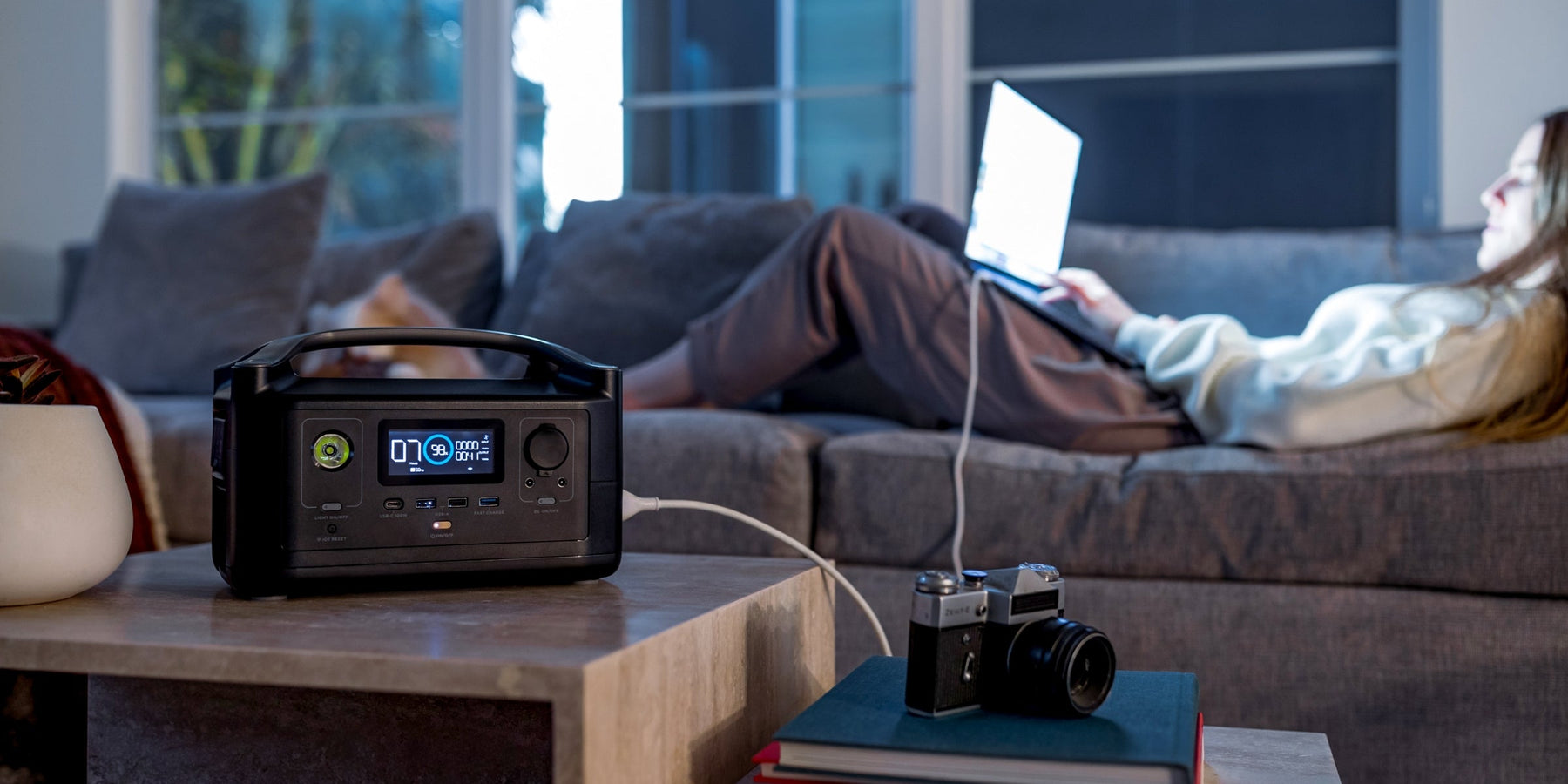 The centerpiece of your adventure
Power up to 9 devices at once with all the ports you'll need. Sporting a 288Wh capacity, you'll have enough juice to charge your phone 21 times, triple your drone's charge, or make 12 cups of coffee with a coffee maker. Just don't drink them all at once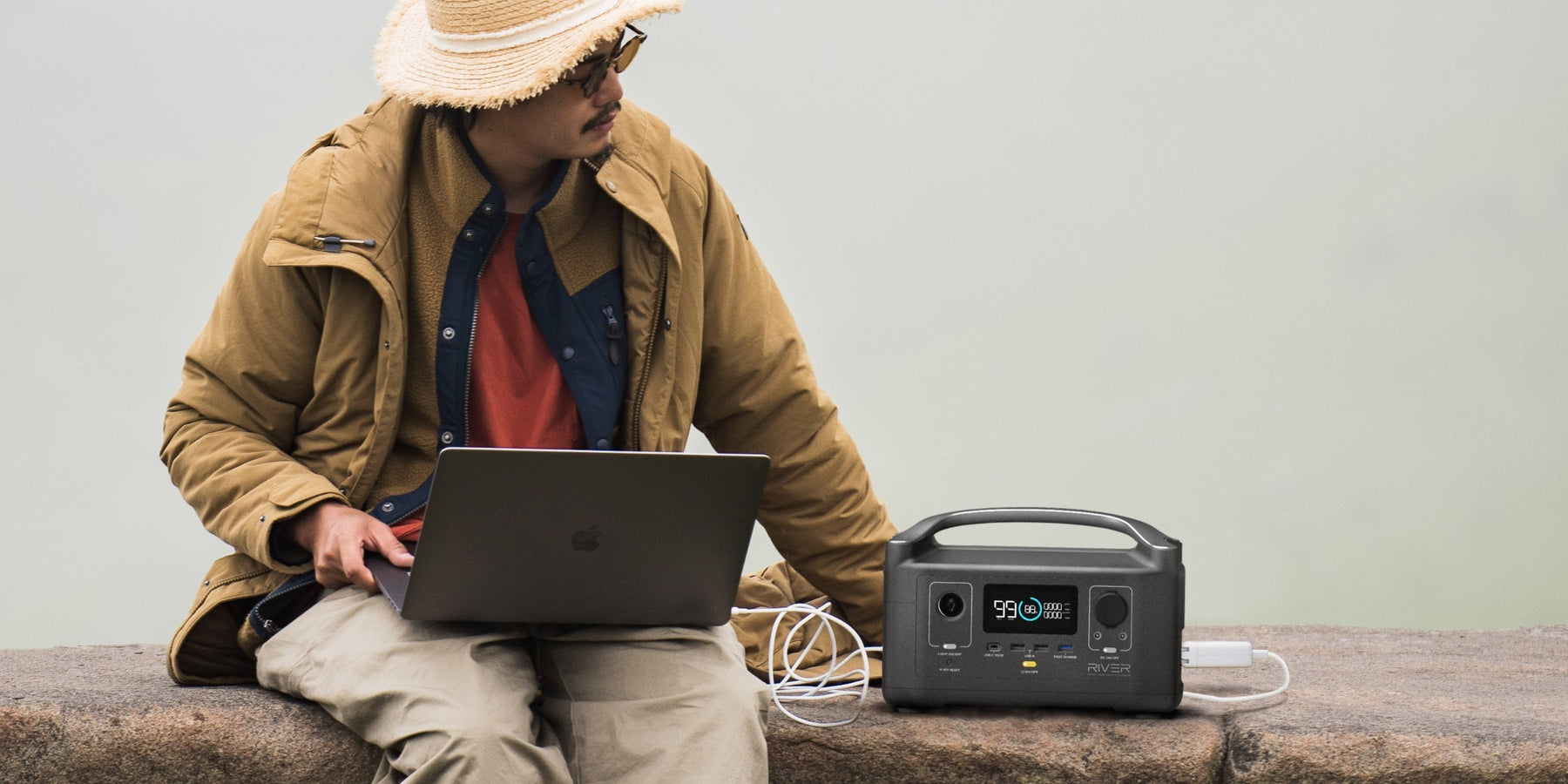 More power to you
EcoFlow's proprietary X-Boost technology is a game-changer. Switch it on to power high-wattage appliances up to a whopping 1800W. That's enough to power a hairdryer, a vacuum cleaner, or even a lawnmower.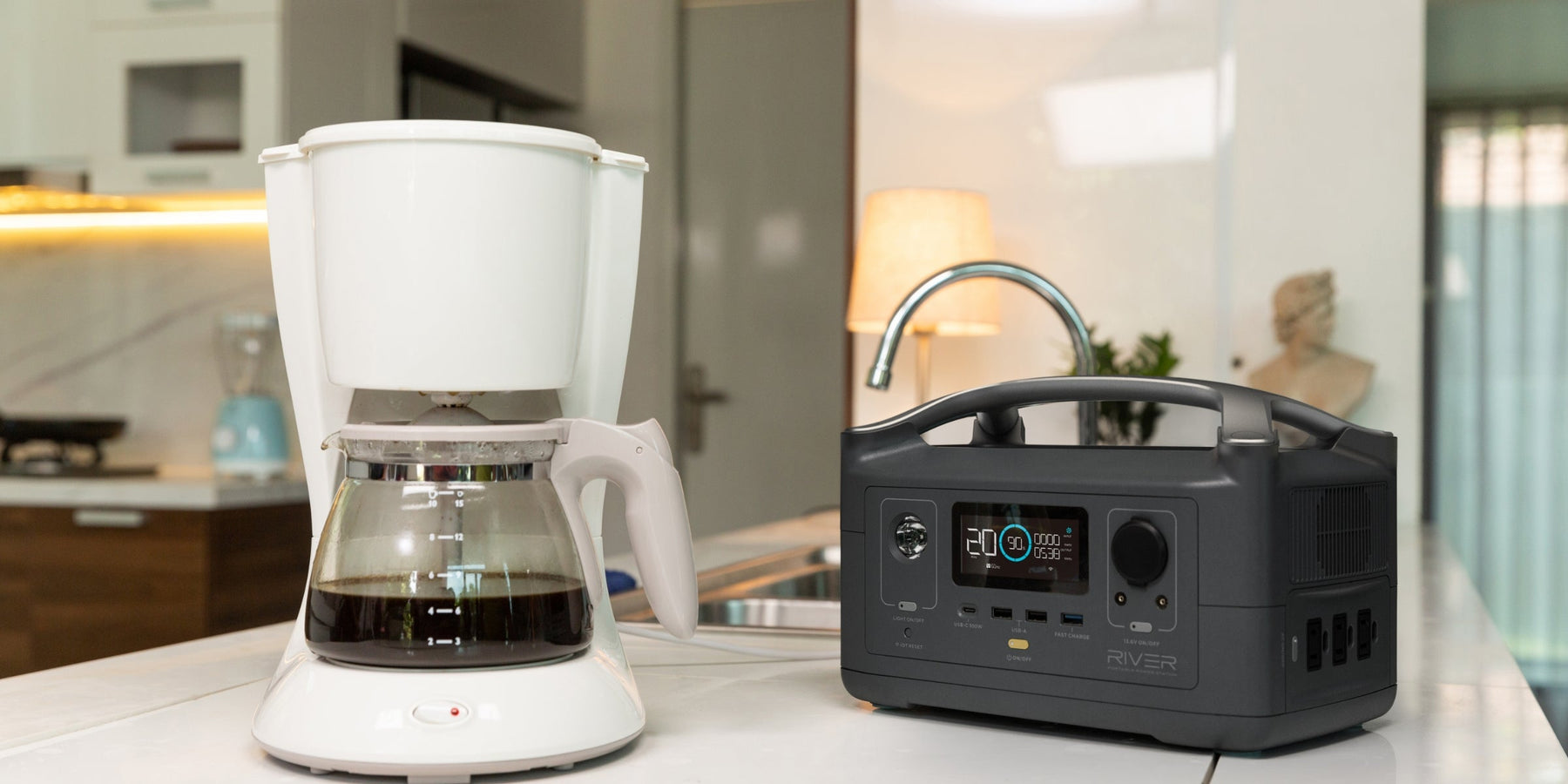 Grab and go
With a sturdy handle on the top of the unit, RIVER is made for when you're on-the-go.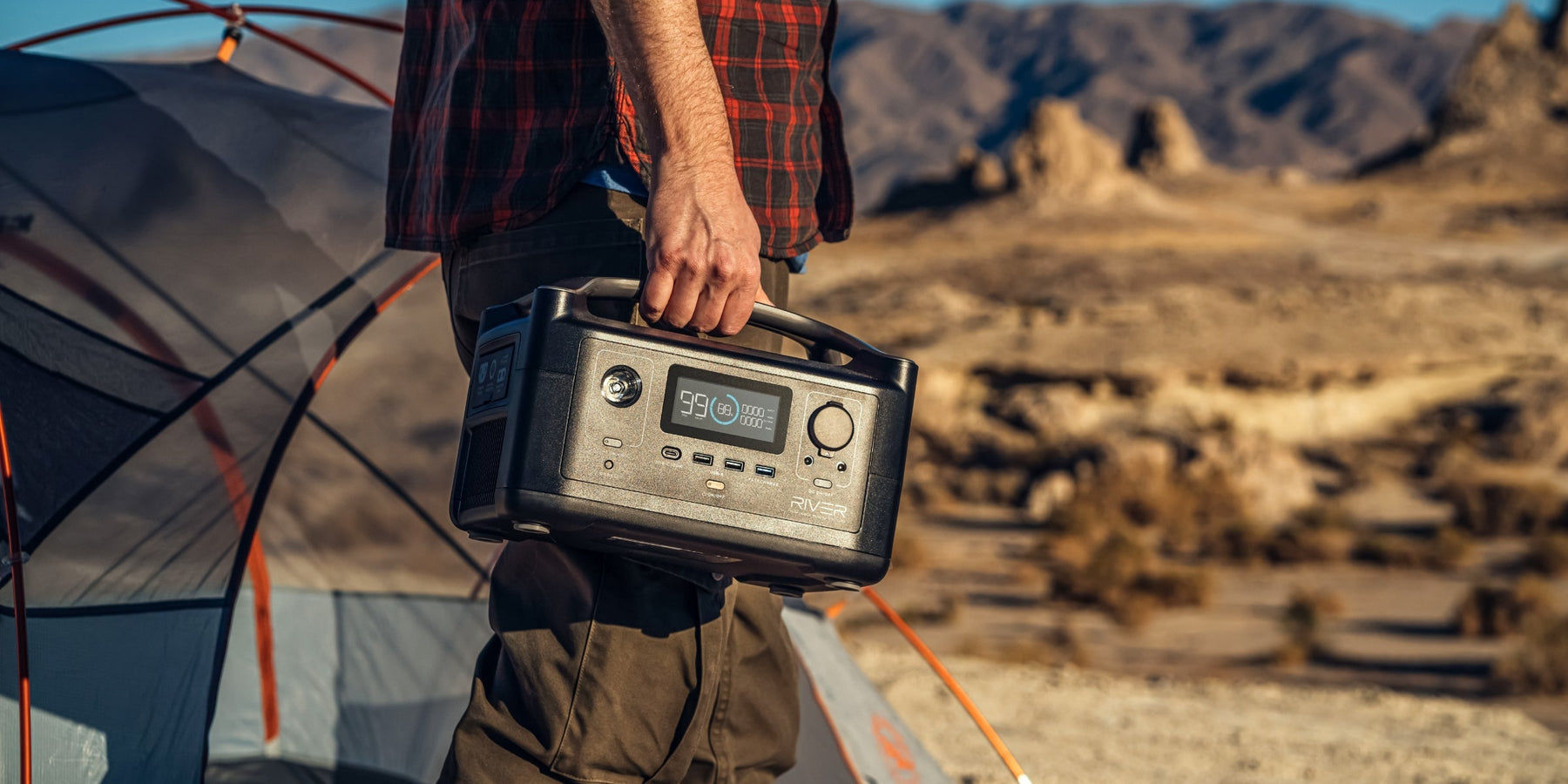 Three easy ways to charge
Solar charging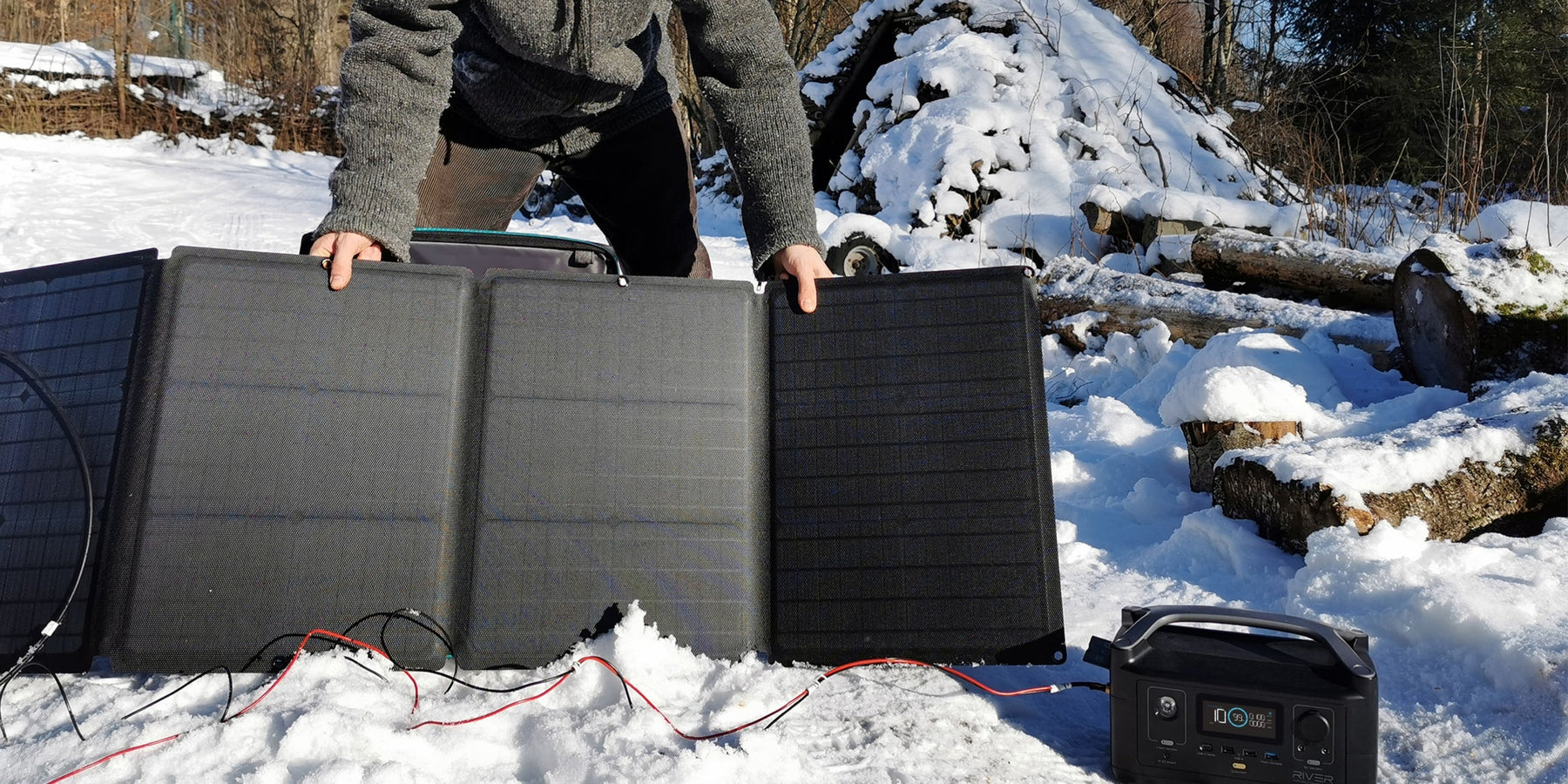 Harness the power of the sun by linking up to two 110W solar panels. You'll be fully charged in 1.6-3 hours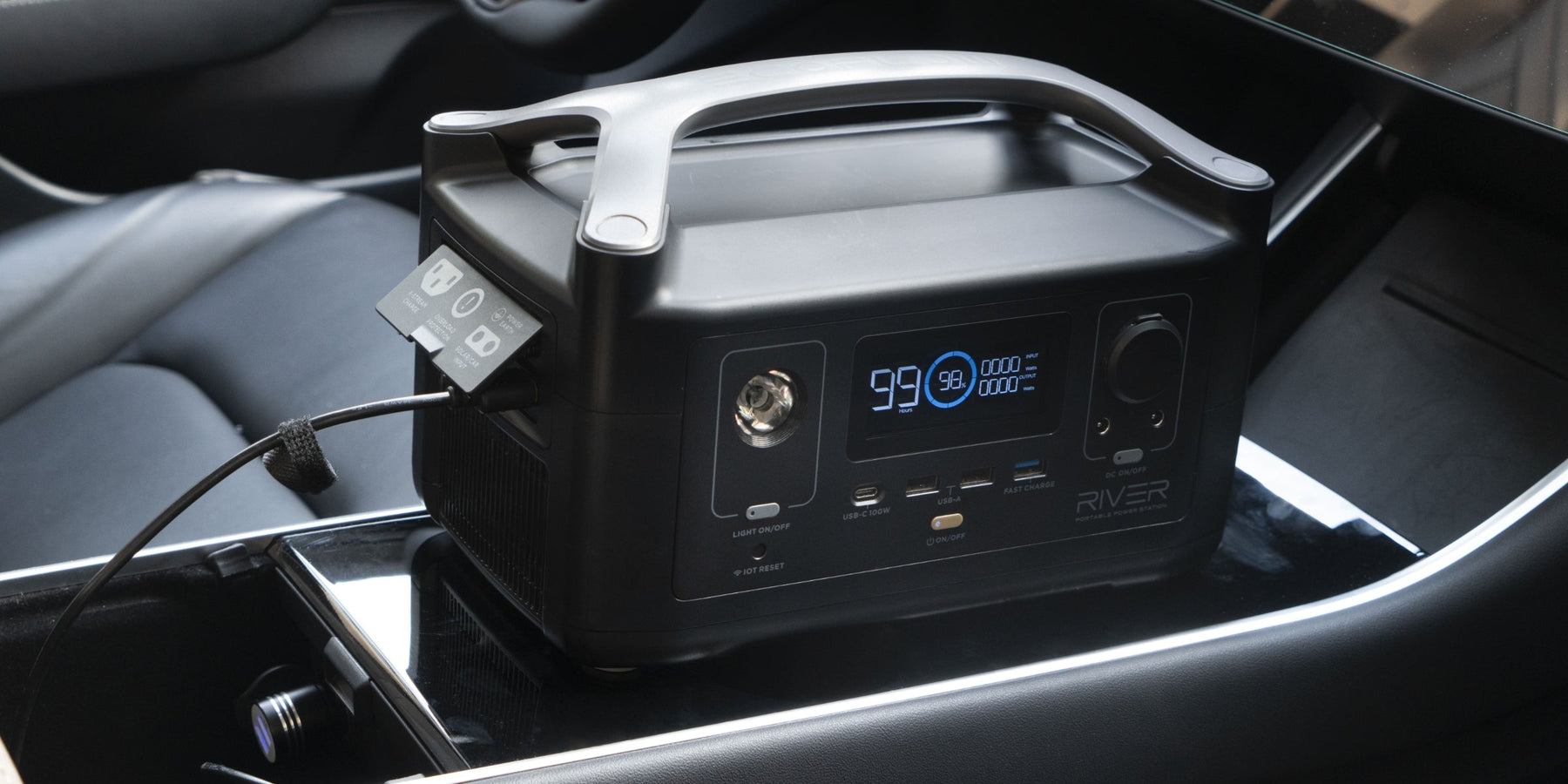 Heading on a road trip? Charge to full in just 3-hours by plugging right into your car with the car adapter.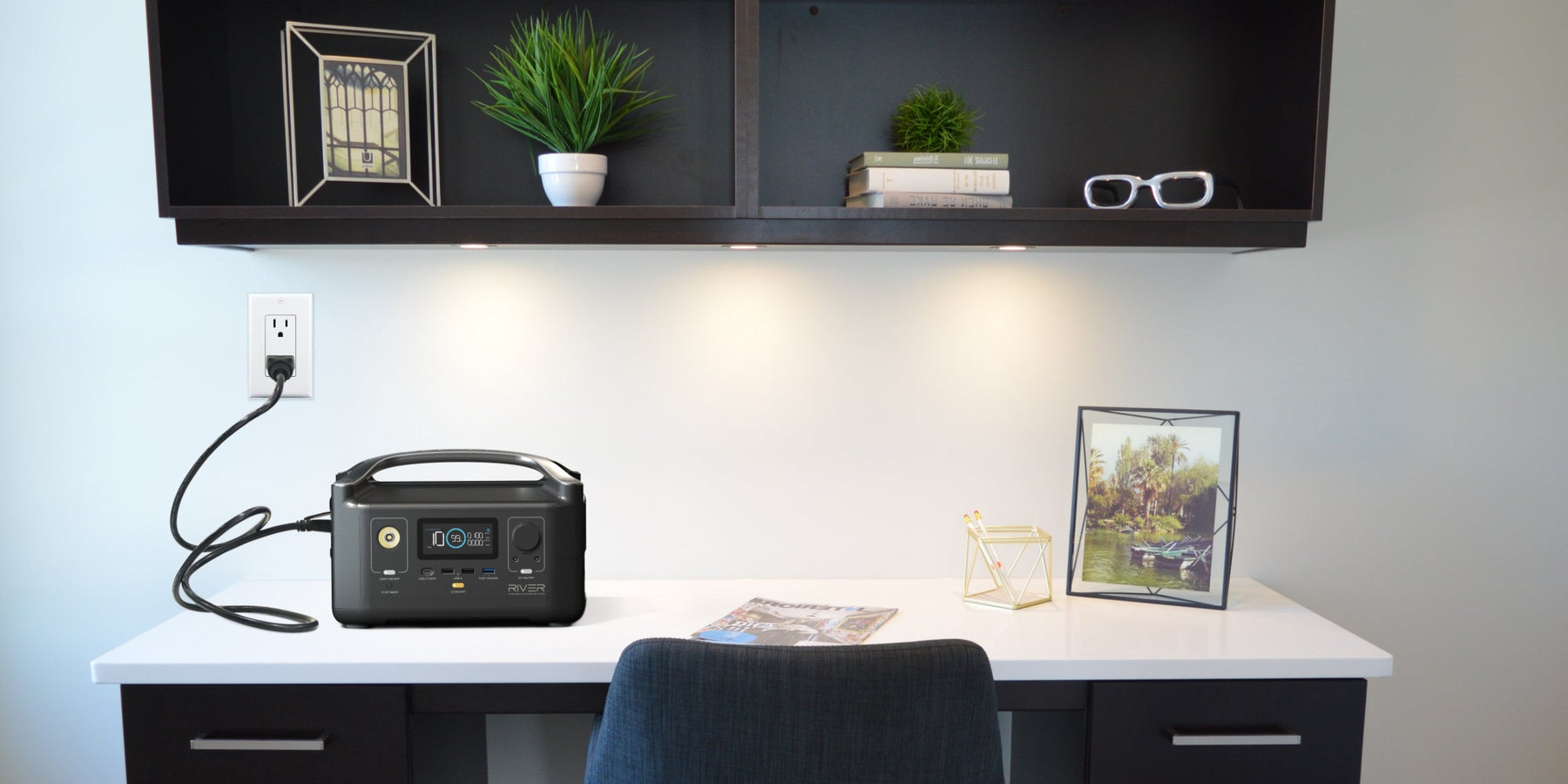 Plug into any standard AC wall outlet to fast charge from 0-80% in under 1 hour with X-Stream charging.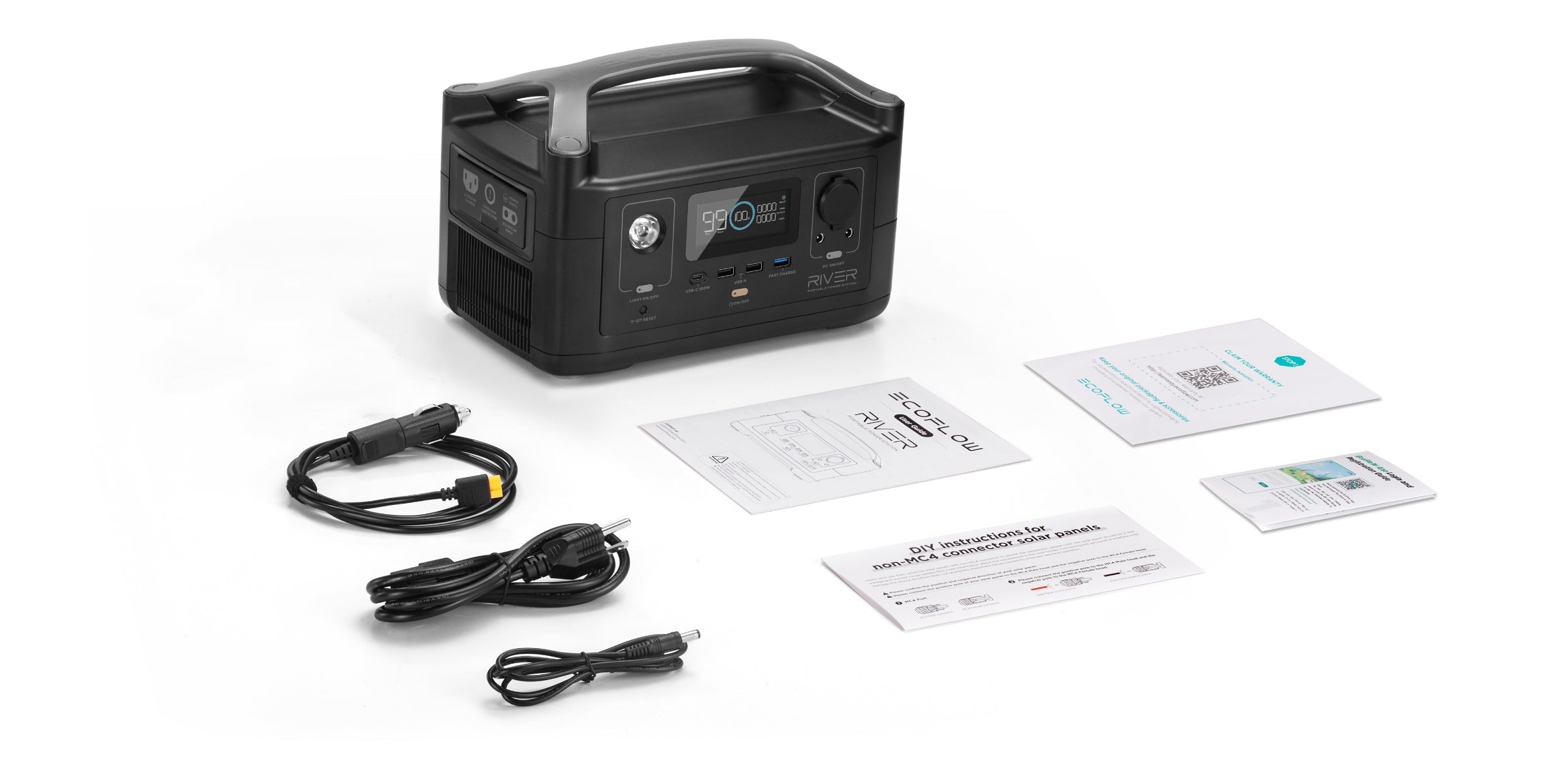 1. EcoFlow RIVER Portable Power Station 2. DC5521-DC5525 Cable 3. 1.5m AC Charging Cable 4. 1.5m Car Charging Cable 5. User Manual 6. Warranty Card
Dimension
11.3 x 7.3 x 7.7 in (28.8 x 18.5 x 19.4 cm)
Charge Temperature
32 to 113°F ± 5°F (0 to 45°C ± 3°C)
Discharge Temperature
-4 to 113°F ± 5°F (-20 to 45°C ± 3°C)
Charge Method
AC Wall Outlet, 12V Car Adaptor, Solar Panel
Full Recharge Time
1.6 Hours (AC) 3 Hours (12V Car Adaptor) 1.6-3 Hours (Using 2x110W Solar Panels simultaneously with full sun) 2.4-4.8 Hours (Using 1x160W Solar Panel with full sun)
Capacity
288Wh - 576Wh (With RIVER Extra Battery)
Cell Chemistry
Lithium-ion
Life Span
500 Cycles to 80%+ capacity
Management Systems
BMS, Over Voltage Protection, Overload Protection, Over Temperature Protection, Short Circuit Protection, Low Temperature Protection, Low Voltage Protection, Overcurrent Protection
Testing and certification
UL Standard, CE, FCC, RoHS, RCM
AC Charge Input Power
X-Stream Charge 250W max/500W Max (With RIVER Extra Battery)
AC Charge Input Voltage
220-240Vac (50Hz/60Hz)
Solar Charge Input
200W 10-25Vdc 12A Max
AC Output (x2)
600W (Surge 1200W) total, 230Vac (50Hz/60Hz)
USB-A Output (x2)
5V DC, 2.4A, 12W Max, per port
USB-A Fast Charge (x1)
5V/2.4A,9V/2A,12V/1.5A 18W Max
USB-C Output (x1)
5Vdc, 9Vdc, 12Vdc, 15Vdc, 20Vdc, 5A, 100W Max
Car Power Output (x1)
136W, 13.6Vdc, 10A Max
DC5521 Output (x2)
13.6Vdc, 3A Max per port
| | |
| --- | --- |
| Weight | 3.5 kg |
| Dimensions | 24.5 × 21.4 × 14.2 cm |
| Storage | 512GB SSD, 1TB SSD, 2TB SSD, 4TB SSD |