EcoFlow DELTA Portable Power Station
This portable power station is equipped with South African standard plugs.
EcoFlow DELTA is the original gold standard of portable power stations. Designed so you can take power anywhere & power your appliances, it's a battery powered generator that packs a punch
The World's Fastest Charging Power Station Charges 10x faster than most portable power stations. 0—80% in under one hour.
Huge 1.2kWh Capacity Portability doesn't have to sacrifice capacity. DELTA is a battery powered generator with a massive 1.2kWh capacity. Enough for hours of backup power.
Power Almost Anything DELTA's huge AC output can even support power tools up to 1800W (Surge to 3300W, Pure Sine Wave). That makes it the best portable power station at this size for output.
Solar Charging, Car Charging & More DELTA is a portable solar power station too. Charge to full in as fast as 4 hours with EcoFlow Panels. On a road trip? Plug into your car port and charge up on-the-go.
Supports 11 Devices At Once All the ports you'd ever need for your gear. Power up to 11 devices all at the same time via AC, DC or USB outlets. Ideal as a battery generator for blackouts.
Never lose power again
DELTA has a huge 1260Wh capacity that keeps your home devices fully charged during power outages and emergencies.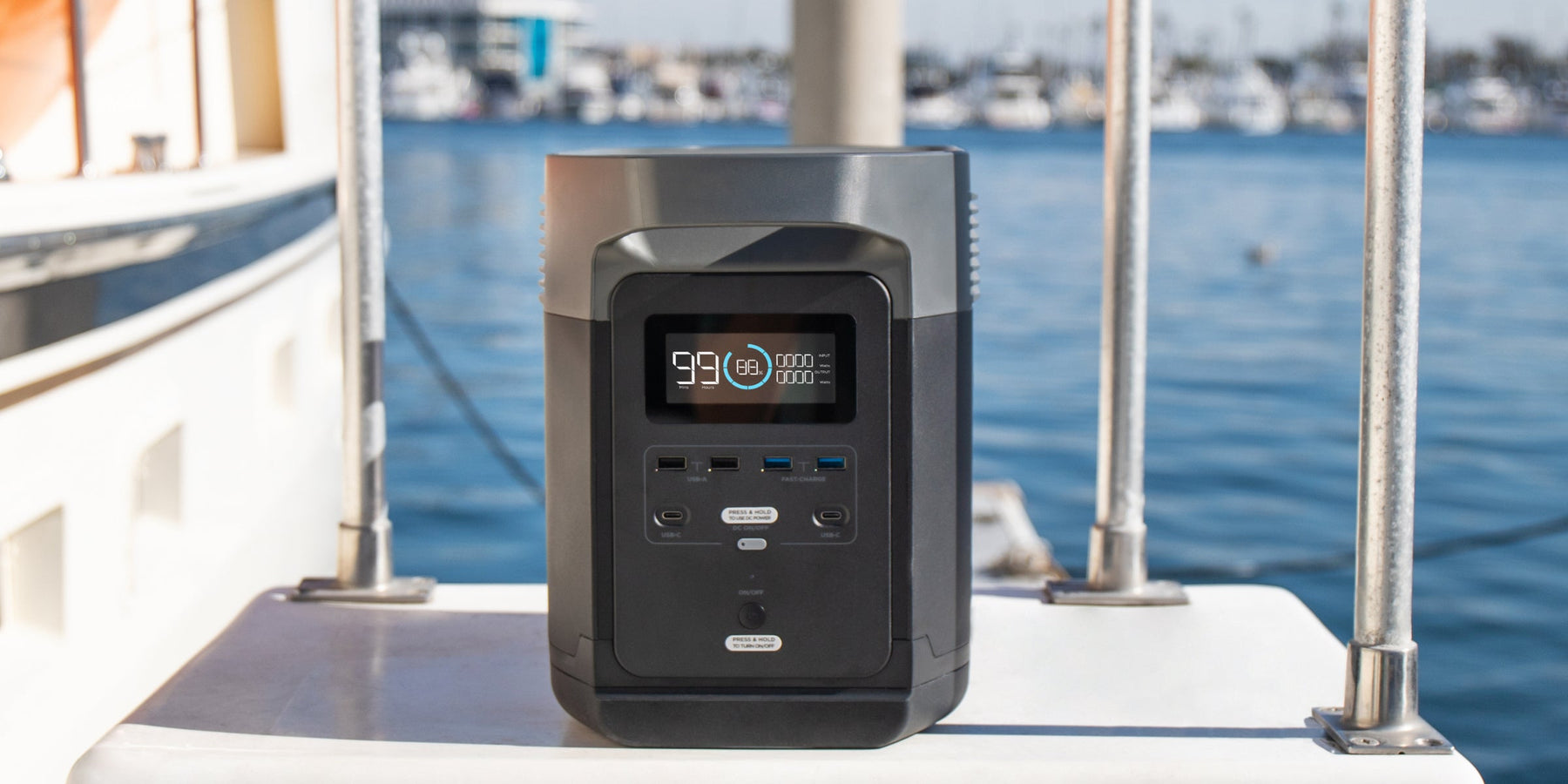 The world's fastest charging portable power stations
EcoFlow have the world's fastest charging power stations. DELTA charges from 0-80% in under an hour, giving you a quick boost of power even during the worst situations.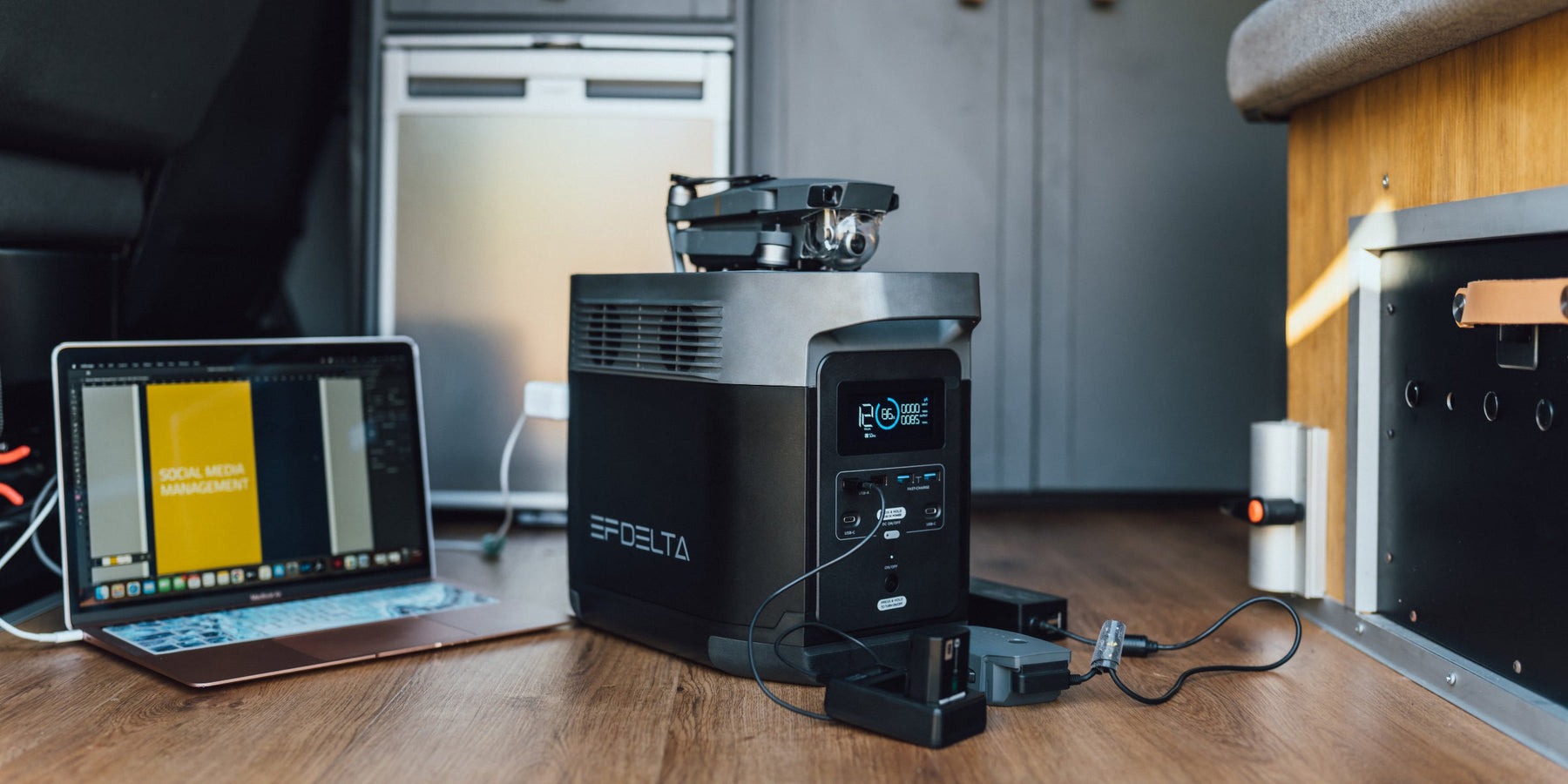 Power your essential devices
With 4 x AC outlets (1800W total rated output, pure sine wave outlets), DELTA lets you power essential devices when you're at home and heavy-duty power tools when you're working outdoors.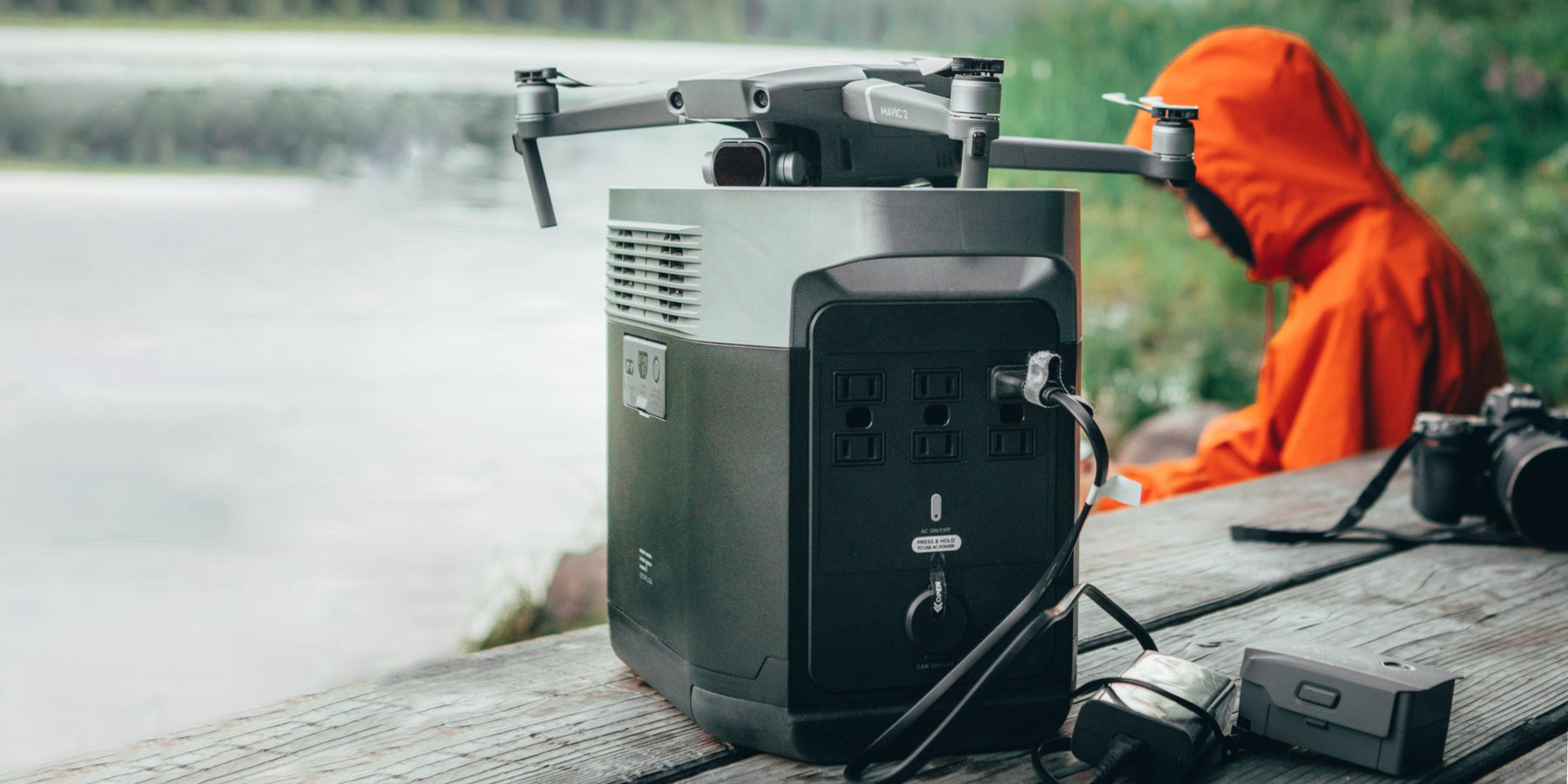 One device to rule them all
DELTA can power up to 11 devices at the same time. That's enough juice for brewing a cup of coffee, listening to your favourite radio station, or journeying into Middle-earth again.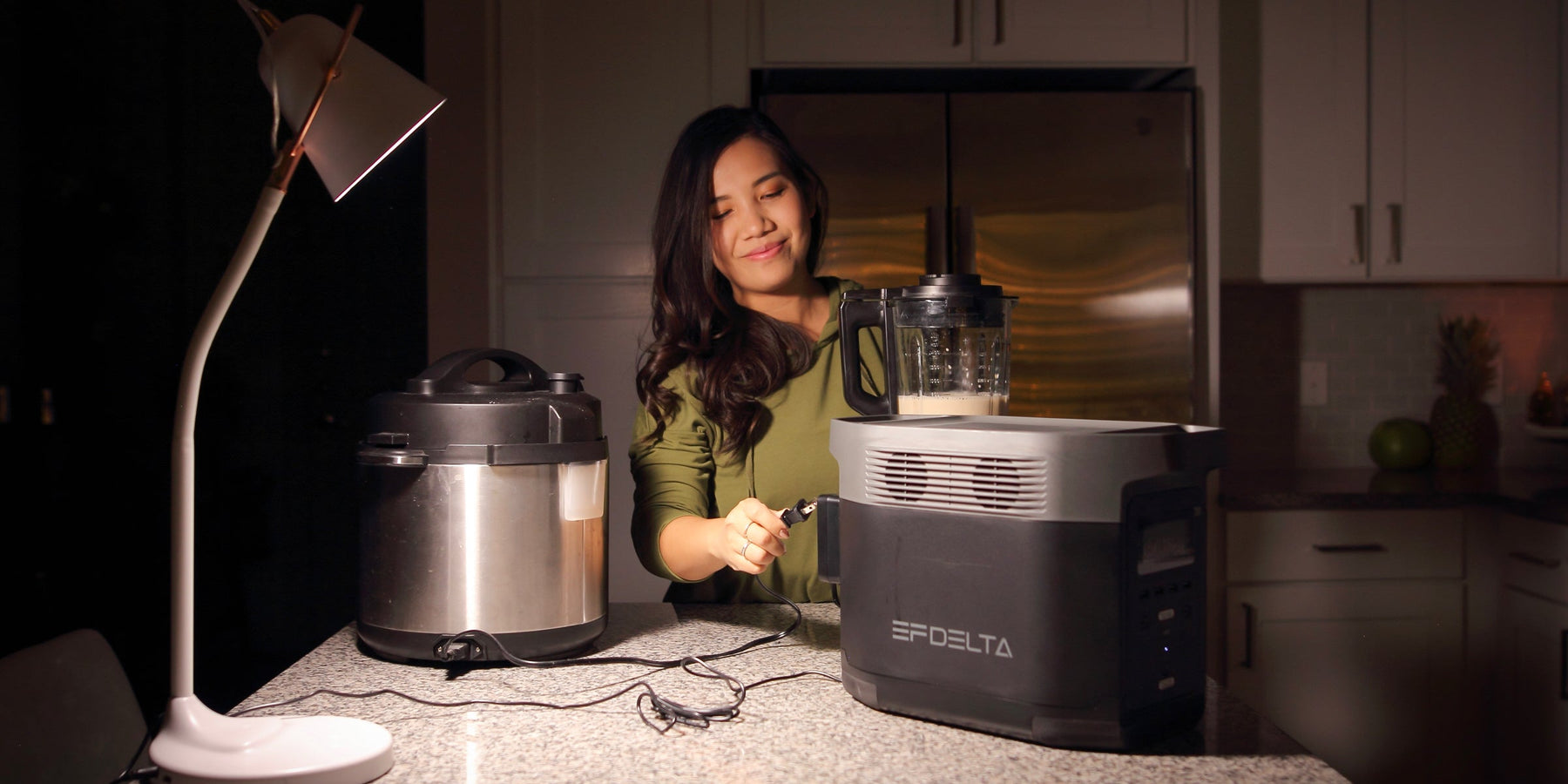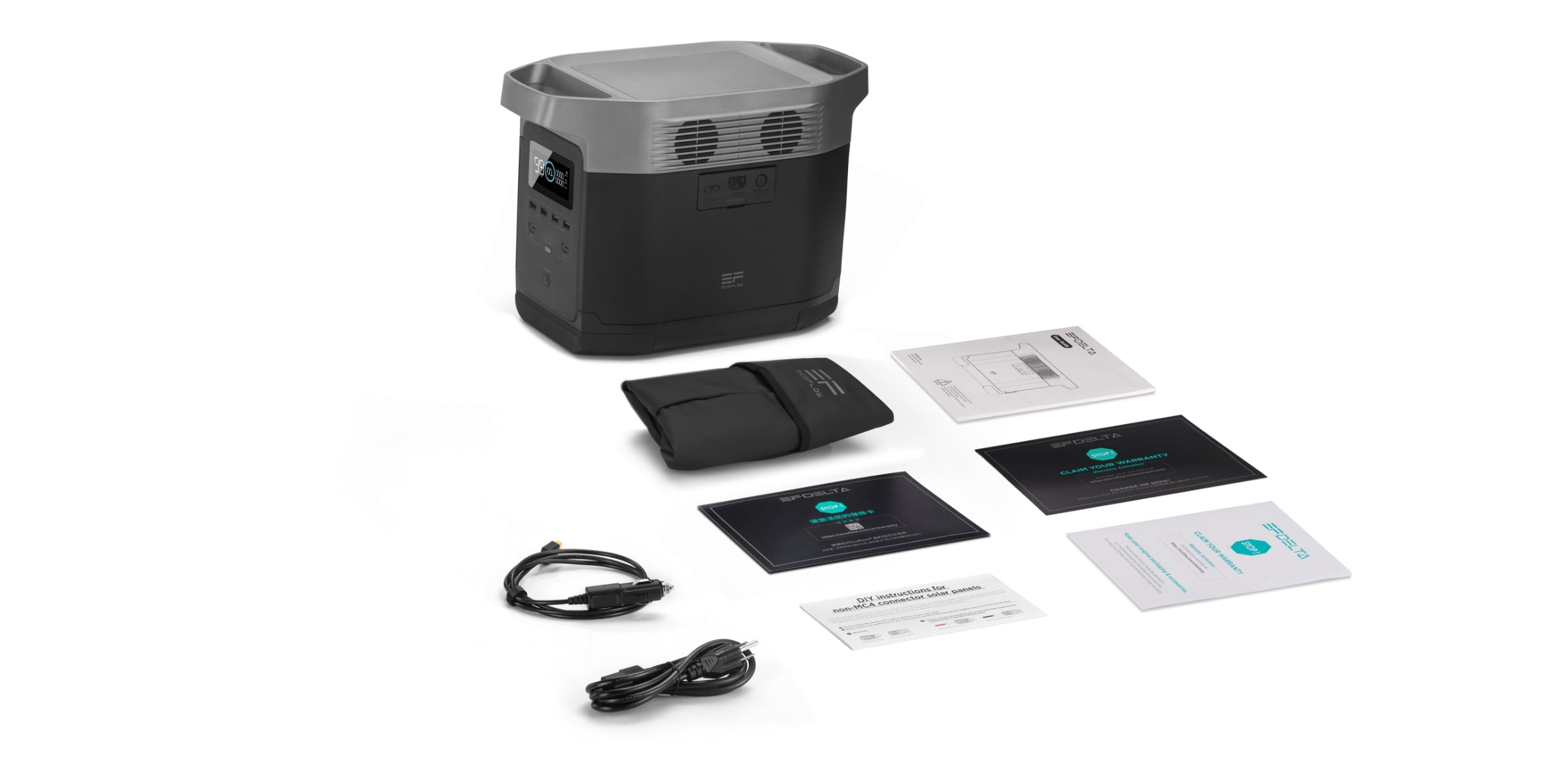 1. EcoFlow DELTA Portable Power Station 2. DELTA Bag 3. DC5521-DC5525 Cable 4. 1.5m AC Charging Cable 5. 1.5m Car Charging Cable 6. User Manual 7. Warranty Card
Dimension
15.7 x 8.3 x 10.6 in (40 x 21 x 27 cm)
Charge Temperature
32 to 113°F (0 to 45°C)
Discharge Temperature
-4 to 113°F (-20 to 45°C)
Charge Method
AC Wall Outlet, 12V Car Adaptor, Solar Panel
Full Recharge Time
1.6 Hours (AC) 13.5 Hours (12V Car Charger) 4-8 Hours (Using 4x 110W Solar Panels) 3.5-7 Hours (Using 3x 160W Solar Panels)
Cell Chemistry
Lithium-ion
Life Span
800 Cycles to 80%+ capacity
Management Systems
BMS, Over Voltage Protection, Overload Protection, Over Temperature Protection, Short Circuit Protection, Low Temperature Protection, Low Voltage Protection, Overcurrent Protection.
Testing and certification
UL CE FCC RoHS PSE
AC Charge Input Power
X-Stream charge (1200W max)
AC Charge Input Voltage
220-240Vac
Solar Charge Input
400W 10-65V DC 10A max
Car Charger
12V/24V DC 8A max
AC Output (x4)
1800W (Surge 3300W) total, 230ac (50Hz)
USB-A Output (x2)
5V DC, 2.4A, 12W Max, per port
USB-A Fast Charge (x2)
5V/2.4A,9V/2A,12V/1.5A 18W Max, per port
USB-C Output (x2)
5V DC, 9V DC, 15V DC, 20V DC, 3A, 60W Max, per port
Car Power Output (x1)
108.8W, 13.6V DC, 8A max
| | |
| --- | --- |
| Weight | 14 kg |
| Dimensions | 40 × 21 × 27 cm |
| Storage | 512GB SSD, 1TB SSD, 2TB SSD, 4TB SSD |